Korg Kronos 73 Music Workstation with SGX-2 Engine - Jan Kempdorp
Friday, 8 December 2017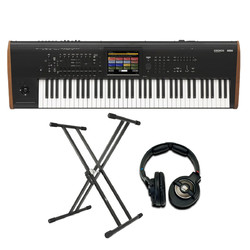 Item details
City:
Jan Kempdorp, Northern Cape
Contacts

fred
Item description
Korg Kronos 73 Music Workstation with SGX-2 Engine
Korg Kronos

Korg Kronos is the flagship keyboard of Korg's synthesizer line, and is available in three configurations, each with the same phenomenal performance, production and synthesis capacity. The only difference between the three models being the key bed. This is the 73-key version, equipped with Korg's RH-3 (Real Weighted Hammer Action 3) keyboard, one of the professional keyboard industry's best-loved piano touches. It is the same keyboard used on Korg's upper-end piano models and on the Korg SV-1. The hammer weighting is graded, providing a heavier feel in the lower register and a lighter feel in the upper register, just as on a grand piano, offering superb playability.