Farm cultivator machine tractors hydraulic heavy duty harrow disc blade harrow - Jan Kempdorp
Friday, 7 January 2022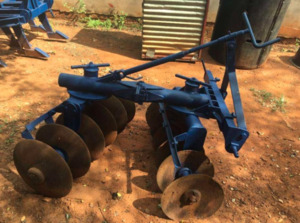 Item details
City:
Jan Kempdorp, Northern Cape
Contacts

MR Peterson

+27 65 3596 118
Item description
Farm cultivator machine tractors hydraulic heavy duty harrow disc blade harrow

Our 1BZ series heavy duty disc harrow are mainly used for farm tillage before sowing, It can work on uncultivated land, Mixed grassland, field with bricks.
It can link with tractor 80-150hp,
Install with Tyre, so it can walk when on the road
It has the feature of high efficiency, 1-2ha/h.

Mr.Peterson
Tel : Whatsapp: +27 65 3596 118
Telephone:+27 112197228
Web Page: httpsfarmworldgiants.com
Email: sales@farmworldgiants.com

We can also get used trailers and other equipment.